🌠 A Lunar Illumination
Market Meditations | November 29, 2022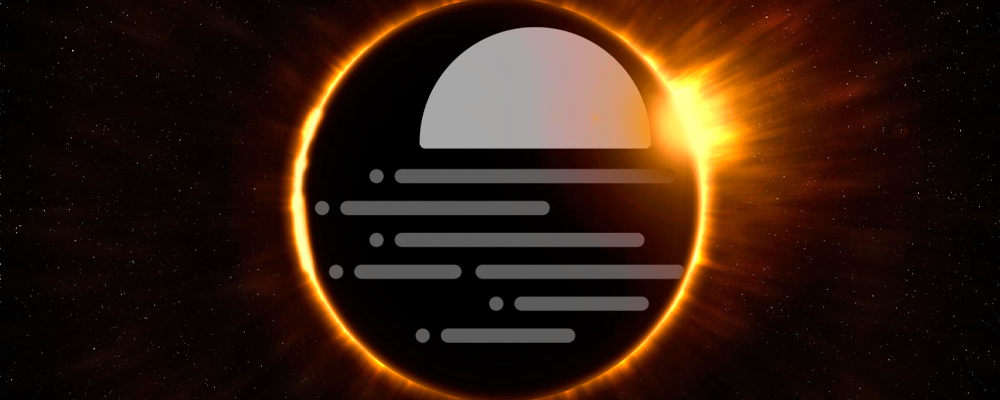 Moonbeam has become synonymous with multichain interoperability, and it continues to see new teams building on its network to take advantage of the seamless connection to an ever-expanding list of blockchain networks. 
By providing value, Moonbeam continues to attract builders even while the entire crypto industry is affected by black swan events like the collapse of FTX. These projects are the ones to watch for the inevitable bull run to come. That's why we at Market Meditations continue supporting Moonbeam.

Moonbeam just concluded Illuminate/22 – a two-day online conference that celebrated the prolifically active ecosystem of projects building multi-chain applications within the Moonbeam ecosystem and beyond, and there's a lot to cover. View all the workshops, talks, and panels on Moonbeam Network.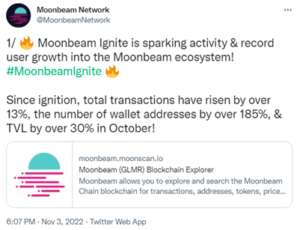 🧱 Give a DAM

DAM Finance is an omnichain stablecoin protocol bringing liquidity from Ethereum to Moonbeam. To facilitate this, users mint DAM's stablecoin on Ethereum by collateralizing it with other existing stablecoins before moving it to Moonbeam. 
Everyone on the DAM team has

built and delivered software for financial regulated institutions

, including working on

CBDC projects. 

DAM has

chosen to deploy on Moonbeam because of its focus and promise of crosschain connected contracts

– a common theme amongst projects choosing to deploy on

Moonbeam

.

Instead of using a wrapped asset model,

DAM is using a mint-and-burn approach

to prioritize interoperability security.


TIP! Some of the founders of the DAM project are DeFi enthusiasts, having actively made a living from DeFi mechanisms like yield farming and airdrops in the past, so the testnet launch (currently scheduled as ASAP) could prove to be an opportunity to qualify for an airdrop in the future.
Check out the full video here. 
🎲 Fun and Games
The next bull run is likely to see renewed attention devoted to blockchain gaming. As Web3 teams begin creating games with AAA development engines like Unreal and Unity, Moonbeam is already emerging as a destination platform.

Games generate a lot of network traffic, and Boba Network is more than just a flavor of the month. 
As the

first and only Layer 2 on Moonbeam

, BOBA runs as a general-purpose scaling layer secured by

Moonbeam

utilizing Optimistic Rollups to bring even faster execution and cheaper transactions to the already industry-leading benchmarks on

Moonbeam

.

They also take it a step further by using hybrid computing to expand functionality to transactions on

Moonbeam

by augmenting the Layer 1 network
It all sounds impressive, but what does it actually mean?
With BOBA on Moonbeam, blockchain games with mainstream adoption populations will actually be able to function as intended. Not just small games, but true MMO games with built-in Web3 architecture fluidly functioning across multiple networks thanks to Moonbeam's supported interoperability. 
And BOBA Network isn't the only project in town making Moonbeam the perfect gaming platform. has far more implications for the Moonbeam ecosystem than just gaming. 
Sample all the BOBA flavors here.

ChainSafe is making life easier than ever for developers by making access to the Unity engine pain-free.
Unity is one of the gaming industry's leading development engines

used by game studios today. Games like Fall Guys, Escape from Tarkov, and Hearthstone are all built with the Unity engine.

The problem is that

Unity cannot natively communicate with Web3

. That's where the ChainSafe software development kit (SDK) comes in to bridge the gap. 

ChainSafe has introduced

drag-and-drop installable libraries

that support multiple chains, token standards, wallets, marketplaces, and platforms. 
Check in on ChainSafe here.
Illuminate/22 highlighted some of the most impressive integrations and developments across the Moonbeam ecosystem, but it's just the tip of the iceberg. 
Every investment opportunity and earning strategy carries risk. Speculation on any asset comes with exposure to the possibility of total loss from any number of events, including but not limited to: exploits, rug pulls, complete devaluation, etc. Assess your risk tolerance before responsibly investing.