Analysis of The Economist's 'Down the Rabbit Hole'
Market Meditations | September 21, 2021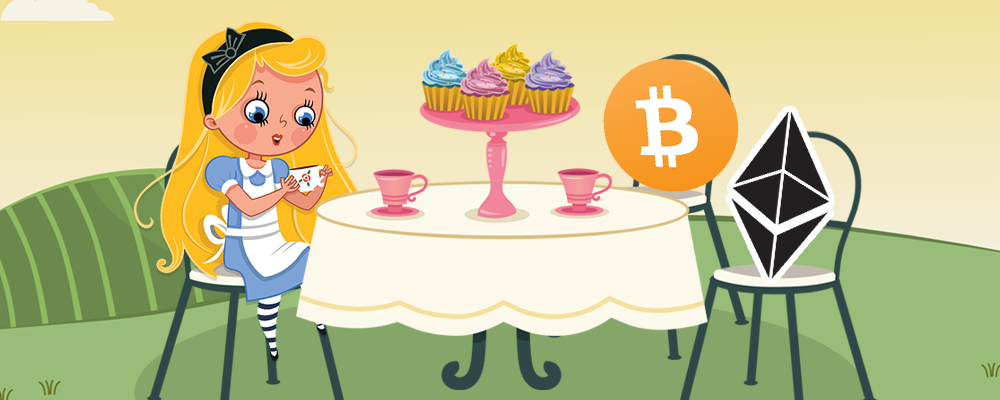 ? We're All Mad Here
Just last week, the cover story of The Economist was 'Down the rabbit hole: The promise and perils of decentralised finance'. An Alice in Wonderland themed account of the crypto markets sent out to over 1 million subscribers to read.
?‍⬛ Curiouser and Curiouser: What Was The Story?
The story aimed to shed light on DeFi: "DeFi is akin to the frenzy of invention in the early phase of the web… the crypto-revolution could even remake the architecture of the digital economy".
The article went on to explain that DeFi is being adopted by banks and governments. Also suggesting that Ethereum is reaching critical mass: "the value of transactions that Ethereum is verifying… reached $2.5trn, around the same sum as Visa processes and equivalent to a sixth of the activity on Nasdaq".
The article concluded that for DeFi to succeed it must be regulated: "Many DeFi applications are run by decentralised organisations which vote on sum issues; these bodies should become subject to laws and regulations".
? We're All Mad Here: What The Story Failed To Mention…
The content itself was lacking in a few ways ?
1️⃣ The Use Cases of Bitcoin. 
For all the pleasantries about DeFi, Bitcoin was grossly neglected in this article. The original cryptocurrency was described as being used to "buy drugs" by "crooks, fools and proselytisers". They even went so far as to describe it as a "distraction". We would argue that Bitcoin has had a powerful narrative since inception: a Store of Value that can be trusted. The fixed supply of 21,000,000 can be contrasted against the seemingly infinite supply of fiat currency. The economic implications of Bitcoin have been paramount and we are seeing it's social implications more and more: be that through adoption as a legal tender in El Salvador or through Satoshi statues in Hungary.
2️⃣ An Overemphasis on Ethereum 
Certainly Ethereum is a leading crypto asset and a powerful force in DeFi. There is no denying that. Albeit it seems short-sighted that the article did not reference any other project in the DeFi space. Be that a Layer 1 or Layer 2 solution. Or any of the many DeFi applications (DEXs, lending platforms, yield farming, liquidity mining etc.)
3️⃣ A Misunderstanding of Energy Consumption 
A lot of statements about crypto energy consumption are ill-thought out to say the least. The article states that blockchain platforms "consume wasteful amounts of electricity". Whilst this may be true today, Bitcoin actually has the potential to be carbon neutral. To learn more about crypto energy consumption, have a look at today's Puzzle directly after this segment.
These shortcomings withstanding, seeing a positive crypto story on the front cover of a leading institutional publication founded in 1843 and streamed to over 1 million subscribers (including global elites such as Bill Gates and U.S. Presidents) is certainly a good indicator. An indicator perhaps that crypto's vision has gone from the global fear and rejection phase to acceptance and adoption.