Different Directions
Market Meditations | June 16, 2022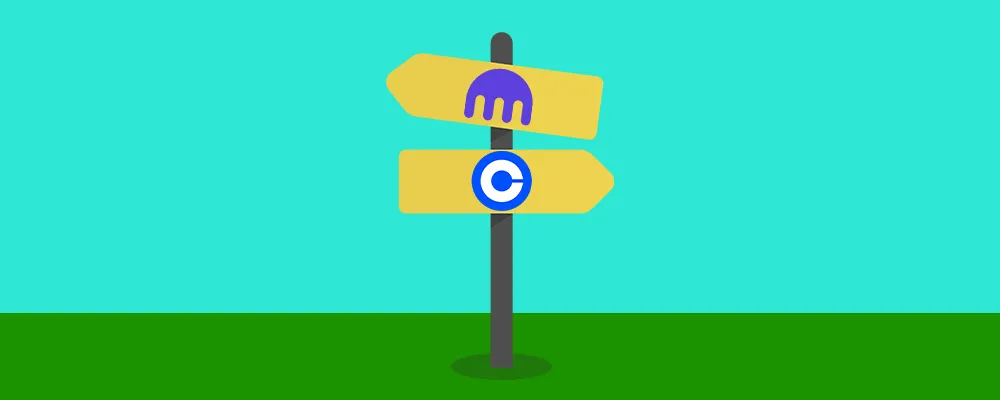 This week, we look at Coinbase and Kraken — two big players who are handling this market period very very differently. First, we look at Coinbase's layoffs, and then we will look at Kraken's policies that are causing controversy.
Coinbase
Earlier this month, Coinbase announced that they would be extending their hiring freeze.
A recent email sent out to employees informed them that Coinbase will be cutting 18% of full-time jobs – roughly a cut of 1,100 employees.
Their CEO, Brian Armstrong, says, "While it's hard to predict the economy or the markets, we always plan for the worst so we can operate the business through any environment."
Coinbase says that these cuts are a result of growing "too quickly" during the bull market.
Kraken
While most other exchanges are laying off workers, Kraken is hiring – but not for workers who go against company values.
There is controversy surrounding Jesse Powell and his company's vision. As a result, he is offering 4 months' pay to employees who don't agree with their principles to leave.
They explain their culture in a blog post saying things such as, "We do not call someone's words toxic, hateful, racist, x-phobic, unhelpful, etc." and "We do not demand respect, be we encourage offering it."
While some pushed for change at Kraken, they were told that the company culture would not make meaningful change – they are a "crypto-first culture."
Though the markets are not trending upwards, we see two big exchanges handling these market conditions very differently in terms of their respective staffs.