How He Turned $4k to $100+ Million With Seedphrase
Market Meditations | December 18, 2021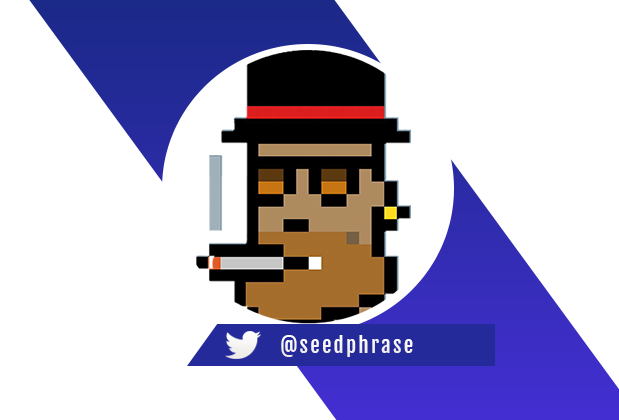 We hosted Seedphrase on our podcast on Thursday, who shared his incredible journey of $4k to $100 Million with us.
In February 2013, he was a university student studying psychology and walked away from a law school degree after gaining financial freedom from crypto. Seedphrase never wanted to be a part of the rate race and crypto gave him the opportunity to escape from that reality. He went full-time in crypto in 2017 and never looked back after making his first million in April 2017.
After travelling to 50 countries and living off of the profits he made during the 2017 crypto bull run, he got back into the space in early 2019 as an investor, investing in Axie Infinity. This is where it gets interesting. 
He didn't just stumble across Axie. In fact, he initially dismissed the concepts of NFTs.
Nevertheless, he used Twitter and Discord to find projects that ticked all of the boxes for him.
It took a lot of research until he came across Axie.
Back then, Axie had a "sleepy community" and was not spoken about too much.
It didn't have a lot of volume.
Seemingly out of nowhere, Seedphrase entered the Axie community as one the biggest investors.
So what lessons can we learn from Seedphrase?
Seedphrase mentioned that he is an "all or nothing" guy, even quoting Warren Buffet:
"Be fearful when others are greedy and be greedy when others are fearful."
It's not just Axie Infinity he came across using his methodology, but also other projects like Megacryptopolis.
Let's summarise a few of the other important points:
It's all about the risk to reward ratio.
Seedphrase always looked for hidden gems. It is important to not be fearful about projects that are not hyped yet or don't have a lot of volume, as long as the fundamentals of the project are there. Your decision is warranted and you can always back yourself.
Always look at the team and their history.
It gives you a good indication of whether they are the right team to be working on this project.
The future of crypto: 
Danny believes NFTs will continue to perform incredibly well in 2022 due to record breaking volumes this month on Opensea, China's increasing involvement in the space and the relatively low number of users.
Within the NFT space Danny is looking specifically into Music NFTs / Fashion NFTs / Photography NFTs and Gaming + Metaverse NFTs.
Look at the size of the marketplace:
What is the volume of the project?
How many users does the project have?
What is the market capitalisation?
Does the project have a loyal community?
What is the project's roadmap?
Is there a token involved? Not only do these offer greater liquidity for an investment but can also appreciate greatly through staking and price appreciation.
If you want to hear more about Seedphrase's unbelievable journey to financial freedom, one of the biggest landowners in Axie Infinity, and generally one of the most successful NFT investors we have come across, listen to the podcast here.