Intro to Astro
Market Meditations | April 14, 2022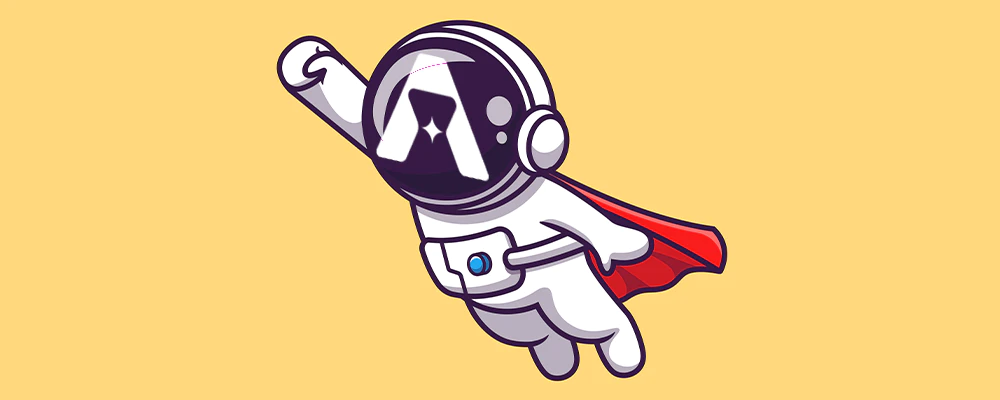 The chart below reveals a close correlation between rising TVL in the Terra DeFi ecosystem and the performance of Astroport itself.
Astroport currently enjoys over $1.5 billion in total value locked, making it the most popular choice for swapping tokens and providing liquidity in Do Kwon's brave new world. It offers a robust list of Terra-native tokens as well as wrapped versions of hallmark assets like Solana, Ethereum and Polygon.
Astroport offers competitive rewards rates for many popular pairings, ranging from reasonable returns on like-asset pairs (e.g. stLUNA-LUNA) to degen delicacies enticing those of us with little self-control.
xASTRO staking launched at the end of last month, bringing staking and fee-sharing along with preliminary governance processes to Astroport.
The next phase, which saw the full launch of the governance organization referred to as the Astral Assembly, arrived on April 6th.
All this seems to be foreshadowing something called Terra Wars – a fight over liquidity in the Terra ecosystem akin to what happened on Curve.
The recency and promise of these points have drawn investors to pile into the waiting area at their local Astroport. Please make sure your trays are properly stored and seats are in the upright position as we review proper take-off procedures.
Astroport features familiar steps to patronize their protocol. Investors eager to have a taste of space (no, don't rush to buy a Coca-Cola Starlight) do so by following a few simple steps:
After clicking "Enter App" on the Astroport site and connecting a wallet, the exchange's features can be accessed.
The most popular wallet for Astroport is Terra Station. The "Swap" tab can be used to exchange tokens if necessary.
Clicking "Pool" will display a list of available pairings and information including APR, the pool's Total Liquidity and Volume. Astroport will automatically detect and display eligible pools based on assets held in the connected wallet. Clicking "Get Token" will open "Swap" to facilitate any necessary exchanges.
Once the required tokens are held in Terra Station, clicking "Add Liquidity" allows the amount to be selected.
After liquidity has been deposited, returning to the "Pool" section will provide a view of "My Pools", displaying liquidity provided and options to Manage and Unstake funds.
In the top right corner of the Astroport page, rewards are displayed and updated as blocks are completed on the network.
DeFi is a perilous pastime, and Astroport is no exception. Risks like impermanent loss, price crashes, and exploits are very real threats. Any services used increase your exposure to these risks. Only assume them AFTER conducting due diligence, and never invest more than you can afford to lose. 
Astroport is an exchange in what looks like a promising ecosystem poised for continued growth. If approached responsibly, moon-bound investments might be taking off from Astroport in 10…9…8…