Intro to the XDEFI Wallet
Market Meditations | October 12, 2021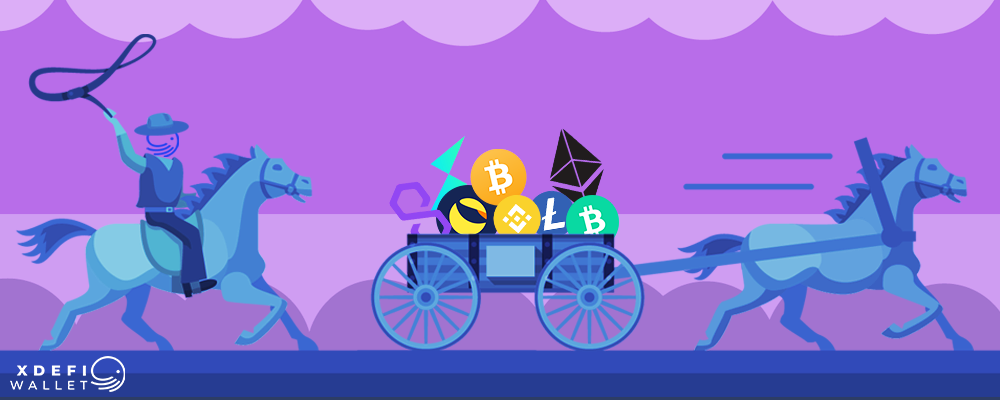 ? A New Sheriff in Town?
? DeFi: The Story So Far
For years now, MetaMask (which focuses on chains compatible with Ethereum) has dominated the browser wallet space.
New players have entered the town: for instance, alternative browser wallets like Phantom and Terra Station were rolled out and designed to support a specific Blockchain.
But the people of DeFi-ville were still unhappy. They ended up downloading several wallets to interact with different ecosystems at the expense of speed and security. A painful process in a field where speed and efficiency are essential! Clunky wallets acting as a barrier to mass adoption. To summarise, there are 3 aspects to the problem:
1) Speed 2) Connectivity and 3) Automation
Just when all hope was seemingly lost for Alpha Apes and DeFi Degens alike, there seems to be a new sheriff in town.
☺️ Enter the scene, XDEFI Wallet
So, what is XDEFI Wallet? It is a Multi-Chain Chrome Extension Wallet designed to deliver the fastest possible experience for NFTs and DeFi. And it's LIVE today! XDEFI Wallet offers solutions to the 3 issues mentioned above.
1️⃣ Speed.
The wallet is designed to give DeFi users a speed edge. As the CEO Emile Dubié explains: "In DeFi and NFTs, speed is alpha… These things determine your ability to seize an opportunity or not".
Through the invention of Ape Mode, XDEFI Wallet gets you into the next block every time, without wasting gas fees. 
2️⃣ Connectivity. 
The XDEFI Wallet currently integrates with nine blockchains: Ethereum, Polygon, Terra, THORChain, Bitcoin, Binance chain, Binance Smart Chain, Bitcoin Cash and Litecoin. Support for Arbitrum, Solana and Avalanche are coming next. Through this, it brilliantly displays NFTs from all chains.
The team's long term vision is to create a suite of products bridging different blockchain ecosystems together in an effort to improve accessibility to the best DeFi and NFT opportunities. What's more, XDEFI Wallet has added a new Buy Crypto option, allowing users to buy crypto and bring their Fiat into DeFi through integration with third-party Ramp. Unlike MetaMask and other competitors, XDEFI Wallet is not charging an additional fee on top of Ramp's fees.
To quote the CEO again: "If you want to unleash the full potential of Web 3, you need to have a wallet that allows you to interact with web applications built on different blockchains. No need to switch from a wallet to another, no need to deal with several seed phrases – just use the same vehicle to access different destinations".
3️⃣ Automation. 
As NFTs continue to become a larger part of the crypto landscape, XDEFI Wallet is the only multichain browser wallet to offer both automatic detection of NFTs and an Instagram-style, customizable NFT display. Through these features, XDEFI Wallet works in the background, so you can focus on what matters to you.
Given the strong product market fit, it's unsurprising that next generation browser wallet XDEFI Wallet recently secured $6 million in funding. It's worth adding that the funding round was led by some of the biggest venture funds in crypto: Mechanism Capital, DeFiance Capital, and Alameda Research, Sino Global Capital, Animoca Brands, Morningstar Ventures, and CoinGecko. When it comes to doing your due diligence on projects, backing by big names in the space is a good indicator of credibility. 
XDEFI Wallet is offering a lucrative solution to some of the biggest problems in DeFi. It looks positioned to be a powerful asset for all DeFi users, relieving them of the struggles of the past and giving them the competitive edge they need in the hunt for alpha!
? XDEFI WALLET IS LIVE! 
As mentioned earlier, XDEFI Wallet is live today. You can use this link to download the wallet. There is no barrier to entry; everyone can access XDEFI Wallet.
Needless to say (and as we always emphasise) it is important to do your own due diligence on any project before you make any decisions.
To learn more about the fantastic team behind XDEFI Wallet, tune into our podcast with XDEFI Wallet CEO Emile which we will be releasing shortly.