Introduction to Airdrops
Market Meditations | September 23, 2021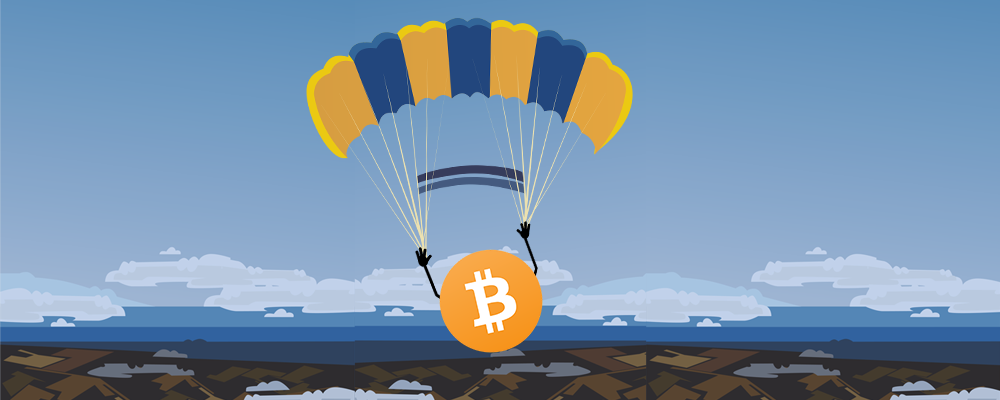 In January, we called attention to what was still a relatively new concept at the time: Airdrops on decentralized exchanges. In fact, some of the airdrop opportunities we mentioned did occur! Such as the surprise dYdX airdrop; if you were a subscriber at the time and took action, congratulations!
Over the course of this year, airdrops have changed considerably and are now much more widespread. Rather than qualifying by participating in transactions or holding currency on certain platforms, eligibility is now as easy as retweeting and following a few social media outlets.
? What is an Airdrop?
Airdrops are marketing strategies used by cryptocurrency projects to boot-strap awareness by giving away tokens or NFTs to participants. There are three main reasons why projects give away tokens:
The primary purpose is to create awareness for blockchain start-ups. They usually precede IDOs and have proven effective in increasing the visibility for these initial offerings.
Another benefit of the airdrop system is the decentralized nature of its distribution. By randomly selecting recipients from a pool of qualified entrants, awards are naturally spread out among a predetermined number of winning wallets.
Sometimes airdrops are used to reward users. In an effort to retain users, some platforms have airdropped considerable rewards to those people who hold coins for a specific duration or have conducted transactions for a certain amount.
? What's the Catch?
As in all things, a little good judgement goes a long way. Recklessly sharing your wallet address, social media accounts, or other quasi-personal information could have some unintended consequences.
Phishing and dusting attacks are two such concerns which should be considered before diving headfirst into the airdrop army.
You may want to create and designate a separate wallet (such as a MetaMask) just for airdrop participation to avoid these security concerns.
Compartmentalization is key. Keeping your main wallet as private as possible is always best practice.
Luckily for us, CoinMarketCap has shouldered a lot of the burden when it comes to researching these potentially lucrative projects. 
The easiest way to responsibly find and participate in airdrops is using CoinMarketCap's Airdrop page. Here you can find a list of both ongoing and upcoming programs in which to enroll. Today, there are over 40 combined ongoing and upcoming airdrops ripe for the picking. With new airdrops popping up almost every day, your odds of receiving some promotional payout doesn't look too bad.
Get started by viewing CoinMarketCap's definitive guide to airdrops.
? Extra Considerations
?REMEMBER: not all airdrops are announced. As we always say, it is exponentially beneficial to be an active member of the crypto community. Engage with projects, protocols and not only will you connect with like minded people and learn more but you might find a nice airdrop landing your way!
✅ TIP: with so many rewards to be gained by simply using a protocol once, there are sharks that have been trying to game the system by creating hundreds of addresses that could potentially all qualify as a separate airdrop, amounting to potentially $100,000+.
To avoid this kind of frontrunning, some projects set a minimum requirement in order to qualify. Keep this in mind on your search for airdrops. For instance, when it comes to protocols try buying/selling at least $50-100 worth of an asset so you don't end up below the threshold.