Introduction to Loot
Market Meditations | September 7, 2021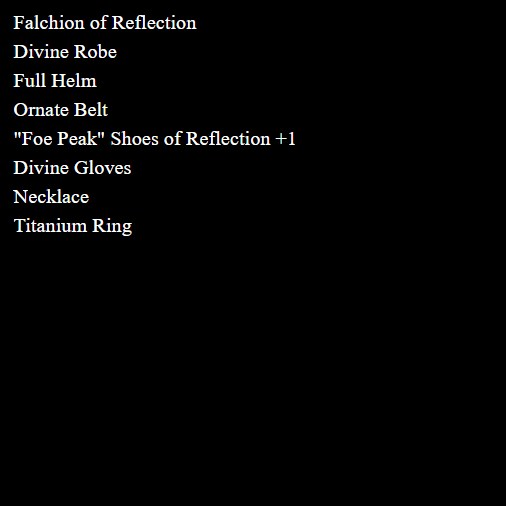 ⬛️ I Present To You… This Black Box
Example: Loot Project #1
Loot is the 'atypical experiment' of Vine co-founder Dom Hofmann 'dhof'. His creation launched on 27th August. It was simple but genius and took the cryptoworld by surprise; he created 8,000 bags of "randomized adventurer gear" as shown in the image above☝️
Each bag contains 8 items for a supposed adventurer.
The design is intentionally minimalistic and leaves everything up to the imagination of the interpreter, even its functionality. 
They are not physical or even digital bags. They are very literally white text on a black background which can be saved as an image and minted as an NFT.
The idea is that game developers can build a game or many games around these collectibles and anyone who owns the bags may be able to access the items within these yet to be created games. It's a building block for a story. 
It was free to claim the bags but you had to pay transaction fees. All 8,000 bags were sold in less than 4 hours. 
⬛️ And.. Is This Black Box Valuable?
Value is in the eye of the beholder. This innovation has led to over 43 projects (and counting) being made around the Loot Project. From Loot characters to an AI that generates visual images of your Loot Project NFT, with those projects being listed on their website. The holders were even airdropped $AGLD, a community created DAO governance token, of which market cap stands at $300 Million, making the airdrop worth around $50,000!
Considering the floor price stands at 10 ETH as of this writing and has even reached 20 ETH previously, you may be thinking: this is just white text on a black background, why is it worth that much?
This is due to dhof's approach to giving his creation value. Typically, the vast majority of creators out there, expand their ecosystem in hopes that this will increase the value and price appreciation of their NFT e.g. Bored Ape Yacht Club holders received Mutant Ape Yacht Club NFTs at no cost.
However, in the case of Loot Project, instead of the creator trying to give value to his/her project, he lets the community itself be in charge of that. In courtesy of Tandavas, we'll call this the Bottom-up approach ?
✅ TIP: Floor price is the lowest price for collection items, rather than the average item price, and is updated in real-time.
⬛️ Okay, What Does It All Mean?
Little by little, we can see that a metaverse is forming around the initial NFTs, that's decentralized by nature and could lead to something quite big. However, we have to be cautious, do our research and due diligence, because with great decentralization comes great responsibility. There is a chance that some of the projects being made could have ill intentions and potentially try to rug pull potential investors or cause harm.
Despite that, we can't deny that the Bottom-up approach to NFT creation has attracted the interest of the world and that future projects could likely follow that path when it comes to making their own collections.