Introduction to Nansen
Market Meditations | September 22, 2021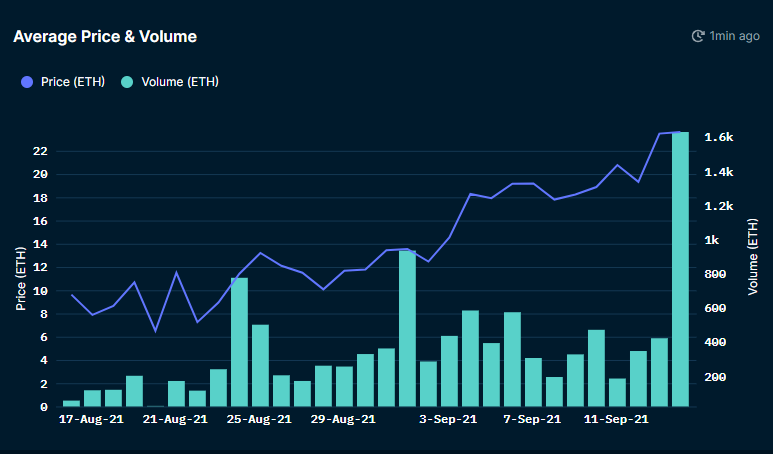 NFTs have been one of the hottest narratives in the crypto markets, with parabolic price increases occurring across the space. But, the market is currently trending downwards in both price and liquidity. An ill equipped investor may therefore conclude that there are no opportunities.
?However, this is not the case! With Nansen1, you can find trending projects that represent strong profit opportunities. Today we do exactly that by looking into their market cap, volume and smart money tools.
1️⃣ Market Cap 
A quick look at the top projects by market cap (average price of an NFT multiplied by the number of NFTs in the collection) reveals that although 4 of the top 5 biggest projects are trending downwards, VeeFriends (no.3 by market cap) is trending upwards. Not only this, yesterday saw the highest volume traded in the past month.
Table 1: VeeFriends Average Price & Volume (Source Nansen)
Why is this the case? As well as a constantly evolving narrative and ecosystem which continues to push the price of VeeFriends up, it was announced yesterday that 5 of the original drawings are to be auctioned at Christie's Auction House – one of the most famous high end auction houses across the globe. This came directly after Friday's announcement that the 2022 VeCon Conference will only be open to VeeFriend holders.
2️⃣ Volume and Smart Money
A quick look at the top projects by volume (the total value of all NFTs traded in Eth) reveals that Cryptoadz is the hottest project in the last 24 hours, with over 3,000 Eth ($10m) traded. We know Gary Vee is behind VeeFriends and that he has a strong track record, so we would like to know who is involved in Cryptoadz too. Fortunately, with Nansen, we can get an idea of the notable owners:
Table 2: Cryptoadz Notable Owners (Source Nansen)
We can see this project is backed by a number of notable wallets and that they have not on aggregate been exiting the project. The labels show you exactly what kind of well informed wallets are involved and to understand what these labels mean, check out Nansen's wallet label guide.
As ever in crypto markets, profit can be found anywhere, if you know where to look. With Nansen, opportunities can be found easily, so that you can focus on maximizing your returns.
---