NFT Alpha Guide
Market Meditations | December 23, 2021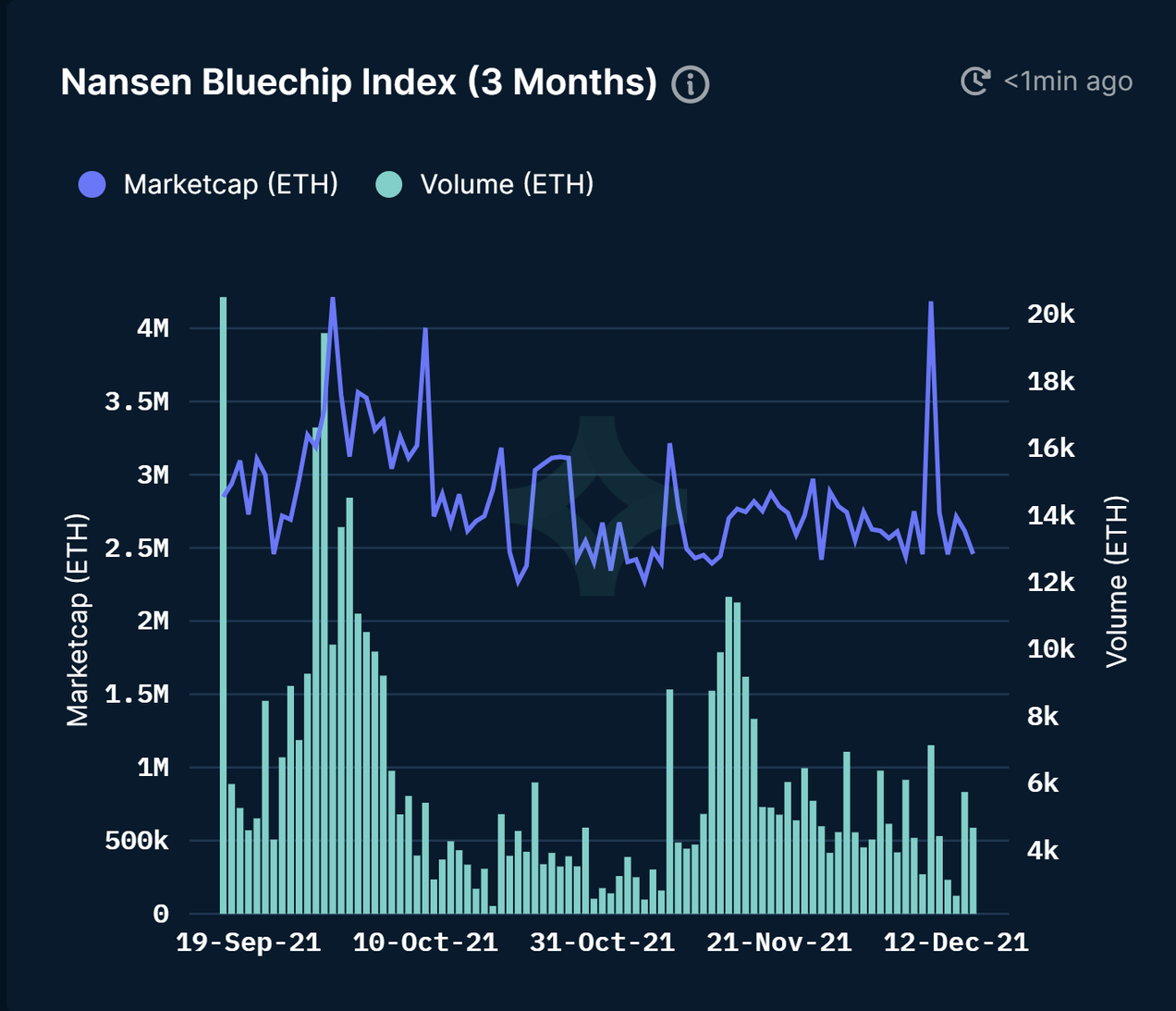 Step 1: Asses the Macro Picture
When considering how to use Nansen for NFT insights, you'll want to begin with the big picture. A powerful tool for this is the Bluechip Index. 
This tracks volume and price of the top 20 NFT projects, showing the overall health of the market.
It currently indicates that we are in a downtrend and should carefully consider if it is the right time to enter any investments.
Bluechip Index
Nansen.ai: 22/12/2021 – Bluechip NFT Index. Market cap and volume over 3 months
Nansen includes other tools that can be used to sort through all NFT projects by key metrics.
Smart Money Investment Returns. We can use this to understand potential profits in current conditions. Just as with the bluechip index – we have seen a downtrend over the previous 3 months showing a decreasing amount of returns to be made in the sector. To learn more about this check out this guide.
24 Hour Volume. Sorting by 24 hour volume demonstrates the hottest projects in the crypto space. We can use the data to identify what projects are receiving the most attention and from this, find trending sectors. To learn more about this check out our first NFT alpha guide.
Step 2: Asses the Micro picture
After step 1, we understand the overall health of the market, how much profits are being made by the top performers and what is currently hot. We can now dive deeper into finding specific NFT projects. 
Smart Money Activity shows the top projects by smart money mints and can be used to identify projects that the most profitable wallets are entering into.
Smart Money Activity
Nansen.ai: 22/12/2021 – Smart Money Mints
In this case we can see a significant amount more smart minters entering Divine Wolves than anything else.
Whilst we have focused on minting, this data is also available for smart money buys and sells – tracking all smart money activity.
Step 3: Project Due Diligence
Upon completion of step 2, as well as our macro picture – we have identified specific projects that we can then now carry out due diligence on, before progressing any investment activity.
Average Price and Volume (Crypto Punks)
Nansen.ai: 22/12/2021 – Crypto Punks Volume and Price
This shows specific price and volume data for the largest NFT project – Crypto Punks
We can use this to understand the project's trajectory. In line with the rest of the NFT market, this is currently in a downtrend except for one spike earlier this month due to the $10m sale of Punk #4156.
Other metrics that we like to use are, number of unique wallets, smart money activity and top balances. With Nansen you can now even consider individual traits to analyze exactly which NFTs to buy in any given collection. 
Step 4: Finding Confluence
As with any component of a trading system, one source is never enough. After you have identified potential investments always make sure that:
(1) It fits in with your overall portfolio strategy and risk tolerance.
(2) Any narratives fit into your understanding of current news and events. To help you keep on top of the markets, focus on high quality sources (such as Market Meditations).
Never have there been better tools to gain an edge over the market. With Nansen we are able to dive deep into the NFT space, generating profitable insights. Through our process, we have found that the market is currently in a downtrend, that profits are harder to find and we have identified several projects that may outperform the sector. Follow this guide and you will also be able to generate insights that boost your returns.
---