Whale Watching on the Ethereum Blockchain
Market Meditations | November 17, 2021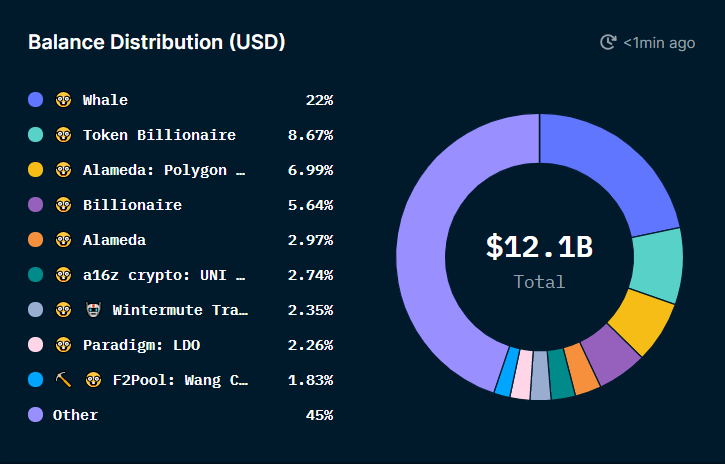 In parts 1 and 2 of our smart money series, we considered how tracking the portfolios of the most successful crypto participants can increase our own profits.
Today, in part 3, we are going to use Nansen to explore exactly who these smart money players are and what tokens they are holding.
Ethereum's Biggest Players
Nansen.ai – 17/11/2021: Smart Money Token Holdings sorted by entity
This chart shows a breakdown of the biggest token holders in the Ethereum ecosystem.
Smart money accounts for around $12bn of value on the Ethereum blockchain highlighting the huge impact they have on the market.
Top funds include Alameda who make up 10% of all smart money token balances, a16z and Paradigm.
One individual Whale makes up a total of 22% of the entire Smart Money segment.
Aggregate Smart Money Portfolio
Nansen.ai – 17/11/2021: Smart Money Token Holdings sorted by token
This chart shows the aggregate portfolio of the entire smart money segment.
The largest holding is WETH, followed by cETH. These are "wrapped" versions of Ethereum that can be used within the decentralised finance ecosystem. This shows how much smart money participates in DeFi – not just the holding of Eth.
42% of all balances consist of tokens that sit outside the top 10. This stresses that smart money holdings are diversified across a number of assets and on aggregate take a risk managed approach.
Tracking Whales Through Time
So far we have spoken about taking a current snapshot of smart money however tracking this through time can also generate insights we can use to better understand the market.
If we go back just 3 weeks ago, CRO was not a top 10 asset. However in the time since it has risen well over 100%, becoming the 5th largest. To gain further insight we could track exactly which smart money players held CRO before its major move up.
Tracking this data through time also allows us to understand how smart money portfolios are changing at a macro level. This can give us confluence for our own trading and investing decisions.
Conclusion
Knowing who the biggest participants on Ethereum are allows us to keep tabs on exactly what they are doing and gain insights into their strategies. With Nansen, this becomes easy.
Next week we will complete our smart money series, putting the first 3 parts together to show you how you can regularly generate actionable insights from tracking smart money.