Will The Show Go On?
Market Meditations | May 25, 2022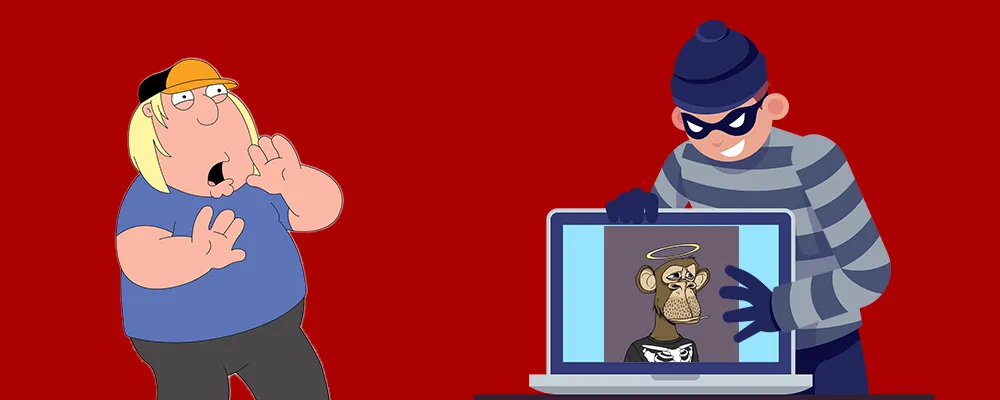 BAYCs are one of the few NFTs that give owners an unlimited worldwide license to create derivative works, something widely viewed as a reason for the collection's super-size success. At VeeCon, an NFT conference, American actor Seth Green revealed that a BAYC he had previously purchased intending to use that license, was stolen along with other NFTs in a phishing attack. 
According to Green, he purchased the BAYC in July of 2021 and has "spent the last several months developing and cultivating the IP address to make it into the star of his show."
Just a few days before the world debut, the NFT was stolen and sold to someone for $200,000.00 on OpenSea.
OpenSea has since placed a freeze on the NFTs that Green reported stolen, however, they can only stop them from being sold on OpenSea and have no control of other marketplaces or decentralized NFT marketplaces. 
Green sought out a Twitter user with the same handle as the purchaser, DarkWing84, hoping to get the Bored Ape back so he could move forward with the show.
Drew Hinkle, an NYU adjunct-law professor tweeted that stealing something doesn't give you rights and reminded users that digital assets give you system powers, not legal rights, which come from the law. 
Another lawyer James Grimmelmann responded on Twitter that the rights to the BAYC depend on property law, copyright law, and the interpretation of the BAYC license, which he calls "hopelessly ambiguous and not fit for purpose."
It is unknown if Green will be able to release the show, without owning the BAYC. This situation highlights the need for clearer laws regarding digital ownership, the need for more thoughtful legal teams in NFT creation, and vigilance in security. If you are concerned about the security of your digital property, check out our security guide.